Elizabeth Stewart is a highly acclaimed singer, pianist and accordionist whose reputation has spread widely not only as an outstanding musician but as the principal inheritor and advocate of her family's music the Fetterangus Stewarts. This North East branch of the traveller Stewart family have had immense musical influence.
First discovered by Hamish Henderson in the 1950s he introduced the American folklorist Kenny Goldstein to Elizabeth's mother Jean and uncle Ned's family dance band as well as to her aunt Lucy who was to become a celebrated ballad singer. In 1961 Folkways released her classic Ballad LP which brought the family's music and name to an international audience.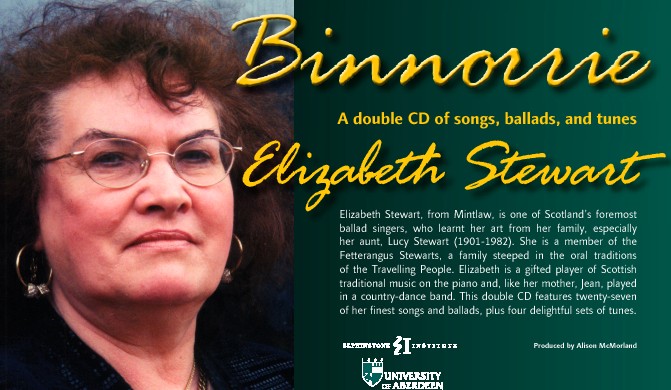 Elizabeth Stewart - Binnorrie
Acclaimed double CD of songs ballads and tunes
[ buy online ]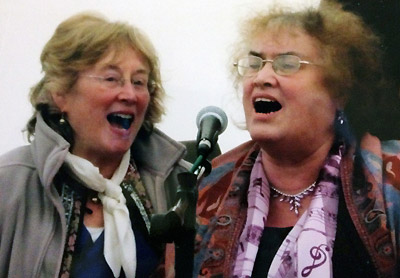 Alison McMorland & Elizabeth Stewart
Singing 'The Plooman Laddies'
Cullerlie Singing Festival, 23rd July 2011

Elizabeth was born and grew up in Fetterangus where her traveller grandparents had settled in a working croft.
Their family of ten sons and four daughters all played instruments from the pipes, accordion, drums to the whistle. Their land was known and used as camping ground and meeting place by other traveller families who were drawn there yearly to share in the lively song and music.
Surrounded by and growing up in this family Elizabeth absorbed songs and music but in particular learnt from her aunt Lucy's singing and the accordion and piano from her mother. Jean Stewart was a notable musician in her own right, leading a succession of dance bands, broadcasting and also a highly regarded teacher in the area. From the age of nine Elizabeth played in her mother's band and graduated to forming her own to play all over North East Scotland.

From these early beginnings Elizabeth has led a life devoted to music and in sharing her deep knowledge and pride in the old style traveller culture. In performing all over Britain and Ireland and in visiting the USA on several occasions, Elizabeth has been keen to foster an awareness of this rich heritage. In partnership with Alison McMorland she is currently documenting her family's story through video and bringing to completion a book on their music. While her double CD, Binnorie: Ballads Songs and Tunes "demonstrates her unique and innovative style that places her firmly at the forefront of the tradition… and her skilled piano medleys leave us in no doubt of why she is called 'Queen of the Ivories'".
(Alison McMorland)